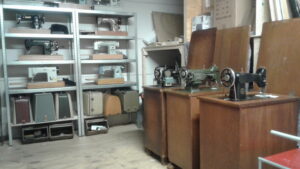 How do old sewing machines fit into the rusty collection? I would say there are several reasons. The first reason is that I knew I needed to do some repairs on the old cars I would need a sewing machine for. When I started to look for a sewing machine I realised I would need an old sewing machine for the work I intended to do.  Researching old sewing machines revealed a whole universe of machines, manufacturers and history. And best of all: they were mechanical marvels and very affordable too.  Here's a selection.
The Chinese Cobbler machine
You wouldn't believe that this contraption is a new "Cobbler" sewing machine we bought only a few years ago. It is a Chinese version of a "Patent Elastique" or "Claes patcher"  leather sewing machine. Though it looks very crude it sews right through thick leather. I used it to sew the canvas roof for the Wolseley Ten.
The Ward Arm & Platform Sewing machine
Weird and ingenious Ward Arm & Platform  sewing machine was patented in 1873 and produced from 1875 to 1895. By Edward Ward London . The platform hinges downwards to convert the machine into a free arm. 
Jones & Co. Serpentine or Swan neck (ca. 1891)
This old lady was probably manufactured around 1892. It is obvious why this is called a "Serpentine"or "Swan neck"machine. 
The Tailor bird (ca 1950)
A very strange bird it is too. To me it looks as if someone decided to re-design the sewing machine to be lighter and less complicated. The machine recesses into the box nicely and the crank is connected to the machine with a rubber band.The Tailor Bird Sewing Machines were manufactured for a short time between 1950 and May 1952 by The Tailor Bird Sewing Machine Company Ltd in Sandwich, Kent.
Helvetia
Fiddlebase tells me "Helvetia" was a Swiss manufacturer in Luzern from 1895 to 1966 also connected to the development of the Dutch Fridor machines. This machine seems to have been manufactured a little before 1966. It is a very nice reciprocating shuttle machine. The colour is very similar to our Fridor.
Hestia
The script on this machine shows "Hestia". Some sources say this is manufactured by "Helvetia".  This machine is complete and seems healthy and free. The cabinet is worn, but still very nice. In the little cubby I found a bill for some tea towels dated 1941, so I assume this machine was manufactured before that date.
How about this Mercury- Sphinx decoration?
The Elna (1946)
When you start reading about the history of sewing machines you can't miss the brilliant Elna Grasshopper electric free arm machine. It is so much smaller and lighter than the old cast iron machines. I understand it must be the first electric lightweight free arm household machine. This one was built in 1946 according to the serial number.
Elna Lotus (ca.1970)
A much later Elna is the small Elna Lotus from ca 1970. All accessories fit inside the machine and the sides fold like a lotus flower. Hence the name "Lotus".

There is no case. Note how small it is compared to the usual Japanese sewing machine case.
General Electric Sewhandy( ca 1930)
Some say it's the ancestor to the Singer featherlight machines. But it was first made by Standard in 1928. Interesting to see how the general construction of the later Elna resembles this General electric.
The Borletti (ca 1958)
Another interesting machine is this ca 1958 Borletti 1090 from Italy, Designed by Mark Zanusso. This particular machine is the basic straight stitch version.
The Singer sewing machines
Of course every collection needs a Singer. This is the Singer 12K New Family. Built in 1887
 Even comes with some spare needles!
 Singer 12K New Family. Built in 1877. This must be the oldest machine in the collection.
Ca 1894 Singer 28k Vibrating shuttle machine. Probably one of the most copied machines in the world.
1925 Singer 127K Vibrating shuttle machine. Spot the differences to the 28k.
Classic Ca. 1910 Singer 15D Treadle. Made in Germany. Another design that was copied by many manufacturers all over the world.
 The big and strong 1927 Singer 66K
Most sewing machines were expensive so often the were paid for in installments. This is a 1914 Singer 66D installment book dated 1914.
Delicious electric Singer 1955 99k. The little brother to the 66K.
Here you can see the difference in size!
 Manual 1958 Singer 99k.
This is the alloy version of the classic 201K. Manufactured in 1956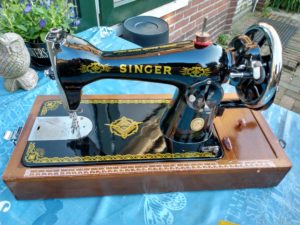 The Singer 15 NL-K machine manufactured in the Singer factory Taiwan in the Seventies as a "Nostalgia"series. This one was not used much. It looks like a brand-new old 15K.
Singer lock stitch toy sewing machine from the late 1960. This machine makes a full lock stitch unlike the chain stitch most of the other miniature machines do. It uses a transparent version of the boat shaped transverse "vibrating" shuttle very much like the ancient Singer 12.
Essex Miniature Sewing machine
This miniature sewing machine makes a very simple chain stitch and was manufactured from 1946 to 1956 by the Essex Engineering Works. The design was based on the Singer 20 model.
Regina Toy Sewing machine
Manufactured by Muller in  in Berlin in the US-Zone . They had been manufacturing toy machines since 1885. This is a later one manufactured in the Fifties or Sixties. A simple chain stitch, but battery operated.
Gritzner
Gritzner TS. 1899 or 1900. Very similar to the Singer 12 new family, though "high arm". Due to the success of the Singer machines and strange patenting laws successful machines were copied by many manufacturers.
1927 Gritzner R. A very nice vibrating shuttle machine similar to the Singer 28K.
Lovely 1925 Gritzner Extra based on the Gritzner R.
The first of the old sewing machines I bought is this Gritzner made by Pfaff. Beginners luck in the best possible way. This machine was hardly used, so it sews like new.
Pfaff
One of the earliest Pfaff sewing machines was the Pfaff B. Logic dictates the B follows the A. Though there was a Model A, I have never actually seen one advertised, so this 1891 B will be the senior of our Pfaff line up. 
This is the model 11. According to the serial number database this machine was manufactured in 1929.
Just one year older than the Pfaff 30 is this 1951 Pfaff 130 treadle machine. Here you can clearly see the cleated drive belt and the big dial for the zigzag mechanism.
Her older sister Pfaff 30 looking very traditional and all steel. Built in 1952 according to the serial number.
This is a more conventional but extremely strong Pfaff 60. A modern shape for 1955. It is not an electric machine, but there is an electric sewing light. Came with all the accessories, booklet and even the original bill of sale dated 1955.
This youngster is almost too modern.  Pfaff 9. Lighter than the 60 it is still a sturdy machine. Also a cleated belt machine.
Seidel & Naumann
This Seidel & Naumann is also a vibrating shuttle machine.
This 1903 Winselmann Hera came with our Pfaff 30. It is a very close copy of the Singer 28. Of course the decals are different and the bobbin winder looks much like the high version on the later 128.
This is another Winselmann marketed with the name of Eduard Rühl.  This machine was distributed by Eduard Rühl in Nuremberg. The machine was found in Nuremberg and acquired there by the previous owner who kept it for around 50 years before kindly giving us care of the machine. The bed is decorated with a picture of two birds.
Wilhelmina
This is a "Wilhelmina" branded sewing machine with a picture of the Dutch queen Wilhelmina who reigned from 1898 to 1948. This shows a young Wilhelmina, so it could be this machine was decorated to commemorate some anniversary, perhaps in 1918 or 1923 or even her coronation in 1898.
Anker
This Anker. Almost staid compared to the next one.
1956 Anker RR. Looks more modern. But is mechanically very similar.
Kayser
Teutonically heavy Kayser early Zigzag machine.
Gazelle
1958 Gazelle branded "Primatic LP" treadle machine, manufactured by Haid und Neu in Germany. It was also sold under the name of "Harris".
Of course we found another Gazelle after the first. This one is a rather nice vibrating shuttle machine. 
The Japanese Sewing machines
This must close to the earlier Japanese copy of the Singer 15. The tensioner is still at the left of the machine and the body shape is very similar to the Singer. Don't let the Germanic name fool you. It's built in Japan by Toyota, Brother or one of the other Japanese factories.
This Dabla De Luxe Sewing machine could be the next stage in the Japanese clone evolution with a more square body. It also looks much like a mix between Singer 15 and 99 with the repositioned tensioner compared to the earlier version.
This Einer must be our heaviest machine. You can see how the Singer clone evolved into a much larger and elaborate machine. They even included zig zag features. Even though the machines were cheaper than the Singers and Pfaffs, they were good quality and sewed well.
This Victoria is a later Japanese free arm machine. Still quite heavy and internally all metal, but the badge is just a sticker, there are a few plastic knobs and buttons and the colour is a less fetching two tone grey.
This PMC Golden Stitch flat bed machine is very similar. Probably manufactured before 1964 according to rubber stamped service dates on the machine. A simple flatbed machine on a plastic base, but still with elaborate dials and chrome " up" and " down" controls.
Rambler. These very nice Japanese sewing machines were offered with various glorious names after ww2.  Some even had car brand names or names that were very similar to car brand names.
Very much like a car Badge.
Impala, another name used for a car. Metallic two tone paint and "speedometer" take the classic car theme to a new level.
This Packard is another Japanese American style machine
Chrome controls and dials look very automotive.